VENUE
The conference will be held on the newly developed Heslington East Campus of the University of York, on the edge of the city of York. The venue is easily accessible from the centre of York by bus, taxi or bicycle.
Update: The Conference will be spread around a number of buildings on Campus East: The Computer Science Building (now named the Ian Wand Building), the Law and Sociology Building and the Piazza Building.

This is because unfortunately the Ron Cooke Hub is closed for re-development.

The main registration and information desk for the conference will be in the foyer of the Computer Science Building on Monday 28th August and Tuesday 29th August, and in the foyer of the Piazza Building for the rest of the week. These buildings are all very close to each other, see the map at the bottom of the page.

Campus East
Main Venue
Address
Computer Science Building,
Deramore Lane,
University of York,
York YO10 5GH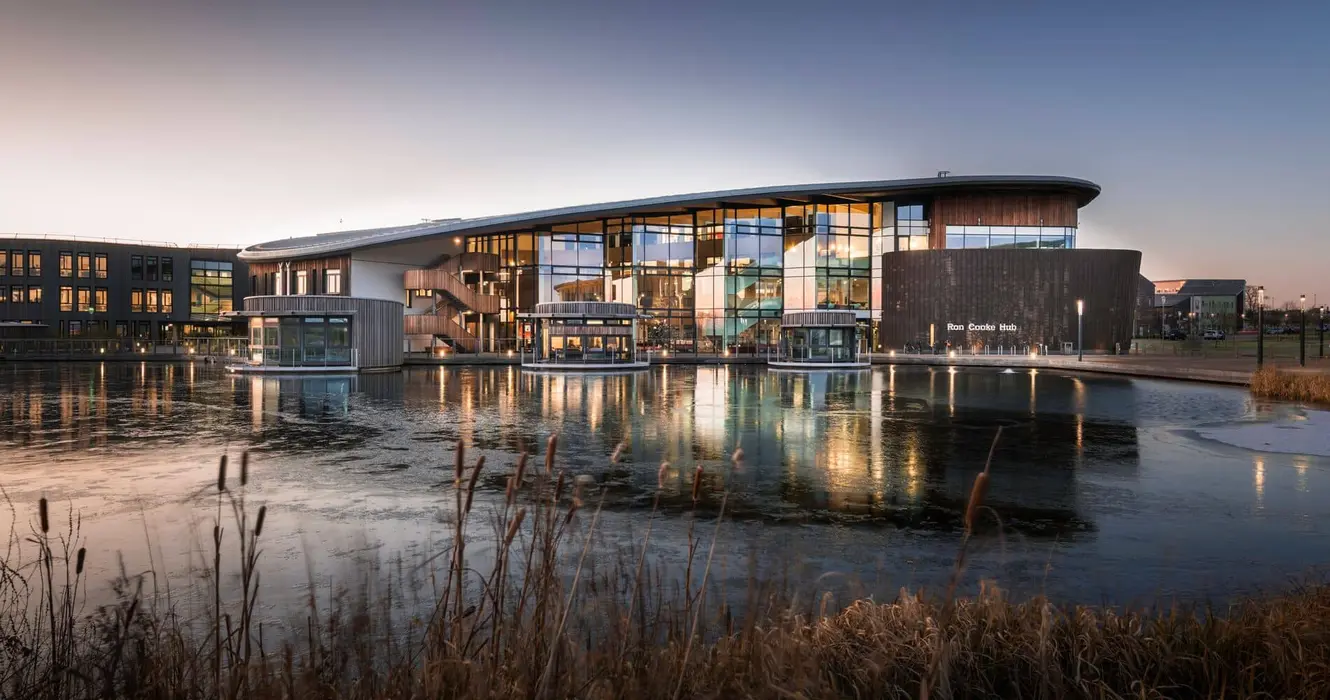 Accessibility of the facilities for disabled delegates
The facilities in the Campus East buildings are fully accessible, with ramps to the lecture areas, dedicated spaces for wheelchair users and hearing loops for hearing impaired delegates.

There is also a dedicated guide dog toilet just behind the Ron Cooke Hub. More locations will be revealed soon!

We will provide an orientation session of the venue for any visually impaired delegates and student volunteers will be available to assist visually impaired delegates if required.
Accommodation
Accommodation for delegates will be available both on the university campus and in central York.

For delegates who prefer to stay in central York, there are many options at all price points. The University has discount arrangements with a number of hotels in York.

Information about discounted hotel accommodation and accommodation at the university is available here.


Visa Information
Delegates from some countries will need a visa to visit the UK. You can attend a conference on a "Standard Visitor" visa. (https://www.gov.uk/standard-visitor)

EU, EEA and Swiss citizens do not need a visa for a short stay.

Time to organize a visa seems very long in many countries at the moment, so please apply very early. If you need a letter of invitation please contact Helen.Petrie@york.ac.uk as early as possible.
Tourism in York and beyond
Looking for fun things to do in whilst in York? Check the page below!


AIRPORTS
LBA, Leeds Bradford Airport (https://www.leedsbradfordairport.co.uk/)
---
Closest airport to York (approx. 50 minutes by road), a quick and small airport to travel through.
Flights to many European cities (Amsterdam, Barcelona, Berlin, Paris, Pisa, Prague, Rome, and Warsaw).
Served by numerous airlines including Aer Lingus, British Airways (for connections at Heathrow), KLM (for connections at Schiphol), Ryan Air, and the home airport for Yorkshire's own low cost airline, Jet2.
Unfortunately, the direct coach service from LBA to York is currently discontinued.
Update: You can take a bus into Leeds (the Flyer A1, check here) and then the train to York.
A taxi from the airport should be pre-booked and will cost about £65. We will see if we can arrange for people to share taxis if they are arriving (and departing) on the same flights or flights at similar times. If you are interested in this option (or need help booking a taxi for yourself) please complete this spreadsheet before August 21 and we will be in touch: Taxi Sharing List
(please contact Helen.Petrie@york.ac.uk for this option).
You can also take a bus/train combination (bus to Leeds Railway Station, then train to York) or a taxi (approximately £50 per taxi).
Manchester Airport (https://www.manchesterairport.co.uk/)
---
Large international airport, a little further away than Leeds Bradford, but easily accessible by public transport (approx. 90 minutes by train to York).
Flights from many cities in Asia, Europe, Middle East and North America.
Served by many airlines including Aegean, AirCanada, American Airlines, Delta, EasyJet, Emirates, Finnair, Iberia, Jet2, KLM, Lufthansa, Norwegian, SAS, Singapore, TAP, United, Virgin, Vueling.
Direct train from Manchester Airport to York. Then bus or taxi to the University (10 – 15 minutes).
London Airports (Gatwick and Heathrow in particular)
---
York is well connected with Gatwick airport near London. You can take a train to London St Pancras from Gatwick and then just walk across the street and take the train to York (for information about the King's Cross to York train service, see below).
It does take a bit of time, but you see the country and meet lots of people. Also very good facilities for a meal or snack at St Pancras/King's Cross.
Departures approximately every 30 minutes by two train companies (LNER – lner.co.uk; Grand Central - https://www.grandcentralrail.com/).
From Heathrow, take the Piccadilly Line of the Underground direct to King's Cross – St Pancras (one Underground station, two above ground stations, a bit confusing). Then take the train to York (see below).
TRAINS
From London/Edinburgh: York is on the main line between London (Kings Cross-St Pancras, called the East Coast line) and Edinburgh, with an excellent service, about a train every 30 minutes. Fast trains from London take less than 2 hours, just over 2 hours from Edinburgh.
It's a very busy service, so it's important to book a ticket a reasonable time in advance (a couple of weeks, when it is much cheaper than just walking up and buying a ticket) and get a free seat reservation.
The services is run by two train companies (LNER – lner.co.uk; Grand Central - https://www.grandcentralrail.com/), but you can buy tickets for either on the LNER website (but you can't change your ticket from one company to the other once you have booked it).
From Paris, Brussels and Amsterdam: Eurostar (www.eurostar.com) from Paris and Brussels to London (King's Cross-St Pancras) and then the East Coast line to York is a bit quicker and a lot more comfortable than flying the same route (the York HCI Group has done comprehensive evaluation of these routes and the train wins on time, comfort and carbon footprint).
Booked in advance it is also not very expensive.
Eurostar also has a service from Amsterdam, we have yet to evaluate this route.
For the intrepid, there are overnight ferries from Rotterham and Zeebrugge to Hull, which is less than an hour from York by train or road or Amsterdam to Newcastle.
Transport from Central York to the University
Buses 66 / 67
Both run from the Train Station to Campus East (and beyond to the University Sport Centre).
Both buses pass through Campus West, get off at University Library for on-campus accommodation in James College or Franklin House. Continue on to the Campus East stop for the conference venue.
67 passes along Walmgate, where the Indigo Hotel is located. There is a stop a very short walk from the hotel (turn right out of the hotel towards the walls)
66 passes along Clifford St close to the Hilton Hotel (turn right out of the hotel and right again onto Clifford St).
6 will also take you to Campus East (but not Campus West) but via a much longer route.
You can get on any bus between Campus West and Campus East for free.
Timetable for the week of the conference here >
Map of the 6, 66 and 67 bus routes in central York here >
York has an e-scooter and e-bike scheme. There is a stand of e-scooters and e-bikes next to the bus stops and car park at the top of the hill on Campus East.
To use these vehicles you need to download the app: https://www.tier.app/en/blog/hello-york.
For the e-bikes you just need to be over 16 years of age
For the e-scooters you need to be over 18 and have a valid driving licence.
You can use the vehicles around the university, and also around York.
Maps and more information on the Tier website: https://www.tier.app/en/blog/hello-york
There are a number of taxi companies in York, it's about £12 from the centre of York to the University.
For the conference venue ask to go to "The Ron Cooke Hub on Campus East". All (or almost all) taxi drivers will know where you want to go.
Note: local taxi drivers will take credit cards, but they often prefer cash.
Campus East

- Get Directions